Cernelle – a 100% fossil-free company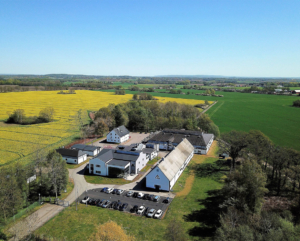 Biogas instead of natural gas, charging posts for cars, switching to LED lighting and detailed energy measurement. Following several years of concerted effort to reduce its environmental impact, pharmaceutical company Cernelle located outside of Ängelholm, Sweden, is now completely fossil free as regards its process and heating.
AB Cernelle has recently signed an agreement with energy company Öresundskraft on delivery of biogas to replace natural gas in its production of herbal pharmaceutical products and to heat the facility's premises.
Other measures include the installation of charging posts for company cars and staff cars, a switch to LED lighting, and detailed energy measurements at the company's premises and installations. During the summer, the ventilation system in the factory will be replaced to ensure reliable and more efficient air flows, at the same time reducing energy consumption.
"Cernelle is growing, and expansion gives us a perfect opportunity to also reduce our environmental impact. The company already only uses electricity from renewable sources, and I'm delighted that we're now transitioning to biogas. In the next five years, I expect the company to more than double its production volume and sales value," says Cernelle CEO, Ken Tinebo.
At present, Cernitin® T60 and GBX (active pharmaceutical ingredients) are produced in a volume equivalent to 270 million tablets a year. Several projects are under way at the facility outside of Ängelholm to increase production capacity and boost Cernelle into a world-leading position in pollen extraction and manufacturing of products for medical use, focusing on benign prostate conditions.
"We need more qualified, dedicated co-workers with powerful drive to help us in our meaningful work at Cernelle. Recruiting the right people is the key to continued success for the company, and we're constantly looking for those who can make a difference and create added value for the company," Tinebo adds.
Further information: Ken Tinebo, CEO Cernelle, +46 (0)730-877 637. ken.tinebo@cernelle.se
About AB Cernelle: Cernelle is a Swedish pharmaceutical company with research, development and production of medicine in urology; chronic prostatitis/pelvic pain syndrome (CP/CPPS) and benign prostate hyperplasia (BPH). Cernelle has developed herbal pharmaceuticals from pure pollen extract since 1953. With over 67 million daily doses per year, Cernilton®/Cernitol® is one of the world's most used medicine to treat benign prostate diseases.
The company has 40 employees, located at the facilities outside Ängelholm in Southern Sweden.